Biscuit On Edge Packaging Machine
Yes!I am interested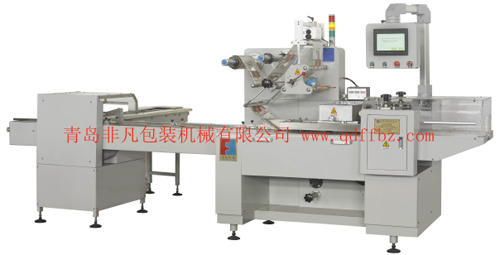 Description
Biscuit on edge packing machine is specially designed for single row biscuit packaging without pallet, which realizes fast packaging of several pieces of biscuits in single row.
It saves the huge manpower and material cost for our clients, which is suitable for fast packaging of the biscuit, wafer and other slice, round and regular items without tray.
Features
1.The machine adopts world famous electrical parts and three servo motors to complete the packing process.
2.Tray free biscuit packaging machine can achieve the synchronization of supplying, pushing, filming, motioning, sealing and cutting speed.
3. Opto-electronic detecting and dual-tracing system achieve accurate cutting point.
4.The conveyor chain is designed with gentle clamping setting instead of the spring clamping to avoid the crushing of biscuit, so the finished product rate is effectively increased. At the same time, it leaves no biscuit crumbs to cause mildew.
5. Color touch screen benefits the user to operate, and the biscuit on edge packing machine can run stable with high speed.
Advantages
Because the pallets save the cost about 0.05 yuan per package, it can save millions of costs for manufacturers for one year, which will bring a lot of benefits to manufacturers. Customization is available if necessary.
Note
1. When customer choose packing machine, please pay attention to if the tray free biscuit packaging machine adopts world famous technology and electric parts.
2. Check the customer reference.
Parameters of Biscuit On Edge Packing Machine
FFW series
Speed (Bag/ min)
30 to 100
Packing Range
Length (mm)
100 to 240
(mm)
40 to 80
(mm)
40 to 70
Electric Power Voltage (v)
220
Power consumption (kW)
5.2
Weight (kg)
1200
Feeding Section Size(L×W×H) (mm)
3100 × 580 × 1130
Dimensions (L×W×H) (mm)
4020 × 1150 × 1840
Packing Material
Paper/PE, OPP/PE, OPP/AL/PE etc
Send Enquiry