Cake Packaging Machine
Yes!I am interested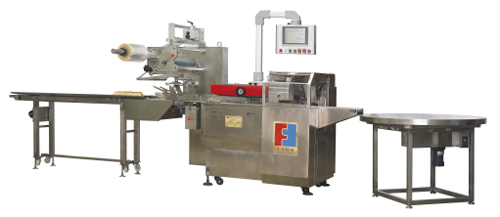 Description
Cake packaging machine, combining with japan technology, is designed for cakes packing. Horizontal cake packing machine adopts full servo motor control, running with high speed, which saves our customer cost.
Features
1.With Full servo motor control, the machine is running sable with compact structure.
2.The machine features less manpower and high packing efficiency.
Note
When customer choose packing machine, please pay attention to if the machine adopts world famous technology and electric parts like Omron Panasonic
Parameters of Cake Packaging Machine
| | | | | | | | |
| --- | --- | --- | --- | --- | --- | --- | --- |
| Model | FFA to 450/99 | FFA to 450/120 | FFA to 450/150 | FFA to 450/180 | FFA to 590/120 | FFA to 590/150 | FFA to 590/180 |
| Max film (mm) | 450 | 450 | 450 | 450 | 590 | 590 | 590 |
| Packaging rate(bag/min) | 30 to 220 | 30 to 220 | 30 to 220 | 30 to 220 | 30 to 200 | 30 to 200 | 30 to 200 |
| Bag length(mm) | 70 to 450 | 70 to 450 | 90 to 450 | 100 to 450 | 80 to 450 | 90 to 450 | 100 to 450 |
| Bag (mm) | 10 to 150 | 10 to 150 | 10 to 150 | 10 to 200 | 10 to 200 | 10 to 200 | 10 to 200 |
| Product (mm) | 5 to 45 | 5 to 65 | 5 to 85 | 5 to 120 | 5 to 65 | 5 to 85 | 5 to 120 |
| Power voltage(v) | 220 | 220 | 220 | 220 | 220 | 220 | 220 |
| Total installed power(kW) | 3.5 | 3.6 | 3.6 | 3.6 | 4 | 4 | 4 |
| Weight(kg) of horizontal cake packing machine | 1000 | 1000 | 1000 | 1000 | 1200 | 1200 | 1200 |
| Dimensions(L × W × H)mm | 5700 × 1050 × 1700 | 5700 × 1050 × 1700 | 5700 × 1050 × 1700 | 5700 × 1050 × 1700 | 5700 × 1250 × 1800 | 5700 × 1250 × 1800 | 5700 × 1250 × 1800 |
Send Enquiry