Down Film Packing Machine
Yes!I am interested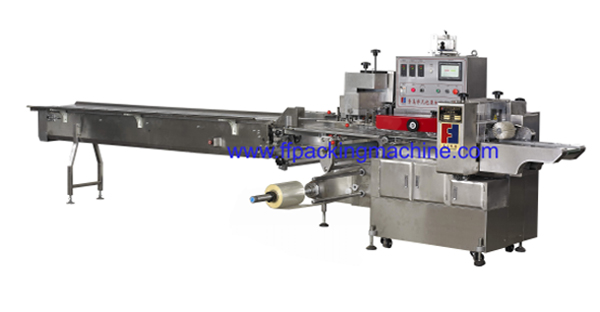 Description
Down film packing machine is designed for assembly packing of several blocks, rational construction and stable performance. It adopts down film feeding to achieve automatic wrapping, forming and sealing, which is widely used for packing 5 bags or several bags of instant noodle, dried rice flour. There is no tray when packing, which can save cost.
Advantages
1. Our company have more than 20 years experience in packing industry and approved by CE and ISO9001.
2. With experienced engineers and skilled workers, our after-sales engineers have gone to around 20 countries to serve our customers.
3. Adopting Japan original technology, the down film packing machine has long useful life and low failure rate, which is easy for operation and maintenance.
Features
1. Equipped with PLC control and servo motor control, the automatic flow packaging machine features simple construction.
2. It will be carried gently on the film or belt through the feeding and wrapping process to avoid product damage.
3. All product-contacted areas are in stainless steel 304.
4. This machine adopts Japan original technology, and most of electrical parts are imported from world famous brand.
5. Down film packing machine is suitable for soft product, sticky product and collective package product.
6. 7" large digital touch screen is easy for operation.
7. Weight can up to 1200KG, so when machine is running at high speed, it will be very stable, no shaking and the packing products look perfect.
8. With human friendly glass like cover on end sealing, to protect operator avoid of damage.
9. Film roll can be adjustable to guarantee the longitudinal sealing in line and perfect.
Note
When customer choose this automatic flow packaging machine, please pay attention to the packing technology, packing range, electric parts, the customer reference, as well as if the machine adopts world famous technology.
Parameters of Down Film Packing Machine
| | | | | | | |
| --- | --- | --- | --- | --- | --- | --- |
| Model | FFC-450/120 | FFC-450/150 | FFC-450/180 | FFC-590/120 | FFC-590/150 | FFC-590/180 |
| Max film (mm) | 450 | 450 | 450 | 590 | 590 | 590 |
| Packaging rate(bag/min) | 30 to 220 | 30 to 220 | 30 to 220 | 30 to 200 | 30 to 200 | 30 to 200 |
| Bag length(mm) | 70 to 450 | 90 to 450 | 100 to 450 | 80 to 450 | 90 to 450 | 100 to 450 |
| Bag (mm) | 10 to 150 | 10 to 150 | 10 to 200 | 10 to 200 | 10 to 200 | 10 to 200 |
| Product (mm) | 5 to 65 | 5 to 85 | 5 to 120 | 5 to 65 | 5 to 85 | 5 to 120 |
| Power voltage(v) | 220 | 220 | 220 | 220 | 220 | 220 |
| Total installed power(kW) | 3.6 | 3.6 | 3.6 | 4 | 4 | 4 |
| Weight(kg) | 1000 | 1000 | 1000 | 1200 | 1200 | 1200 |
| Dimensions(L×W×H)mm | 5700 × 1050 × 1700 | 5700 × 1050 × 1700 | 5700 × 1050 × 1700 | 5700 × 1250 × 1800 | 5700 × 1250 × 1800 | 5700 × 1250 × 1800 |
Send Enquiry